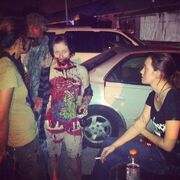 Valerie Monica aka The Queen of Horror is a member of Dead on Arrival and several other forums. She started her role playing career in 2003 and has been on and off role playing ever since. She is a fashion designer and a movie advocate of horror, but that's not where she gets her name from she literally lives a horror life style.
Debut in 2003 on the Vampires of Night
Resident Evil: Dead Sight in 2005-2006, 2008 third run
Became a member of Sagas from 2006-2013
Fable Fantasy 2006
Final Fantasy Advent Darkness 2006
Trios Hogwarts 2006-2008
It's all in Yer Mind 2006-2007
Star Wars RPG Relm 2007
Dragon Ball CC 2007-2008
Final Fantasy Convergence: Broken Worlds 2008
Joined Devil May Cry Endgame 2008
Notable Characters
Edit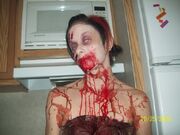 Sazon Himura 2005 - 2011
Lulu 2006
Ali Le Mort 2008
The Professional 2008
Jessica Shepard 2008 - 2011
Jessica White 2013-
Works at a haunted house every year in October.
Designs most of her costumes for it.
Is known for creating abominations that strike fear into the most powerful characters.
Often plays human characters.
Adopted the name Queen of Horror sometime after 2007
Lives in New York, New Orleans, and soon Chicago. 
Can spend 6+ hours in Starbucks using their wifi and drinking their coffee.
Does all of her graphics such as Signatures, Avatars, and forum graphics.
Her favorite Horror movie is: The Original Texas Chainsaw Massacre
Runner Up: The Original The Thing.
Listens to a lot of music, depending on the day she can go from classical piano to goregrind. Her favorite band is: In This Moment
Ad blocker interference detected!
Wikia is a free-to-use site that makes money from advertising. We have a modified experience for viewers using ad blockers

Wikia is not accessible if you've made further modifications. Remove the custom ad blocker rule(s) and the page will load as expected.